July 16, 2010
This is ridiculous, you guys. I CAN'T. STOP. LOOKING at photos of our puppy.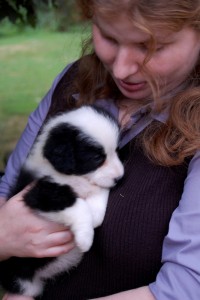 I can't believe I have to wait several more weeks before we can bring her home! In the meantime, other than the occasional nightmare about her having been given away to someone else, there's nothing much to do but look at photos and spend money. Lots of money.
We started by buying a dog, of course. Then on the way home from that I insisted on stopping at PetSmart to buy "puppy stuff" which was "really important" to do "right away." Starting with the most necessary item in the entire store: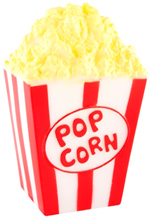 A squeaky toy shaped like a bag of movie theatre popcorn. How could I resist?
We also got a puppy Kong (those chew toys you fill with treats). Next we purchased a crate. And some puppy potty training pads. And a holder for the potty training pads. And some food. We're still looking at play pens. And deciding what kind of collar/harness/leash combo to go with. Etc, etc, etc…
It is possible this puppy will be a little spoiled. But can you blame us? Look at that face!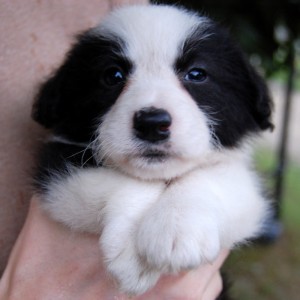 We are also continuing the name-choosing process. So far we have suggested and rejected about 10,000 names. I think in the end we're probably going to go with a suggestion of Larry's: Serif ("because she has little feet"–groan, typography humor). It is growing on us, and I appreciate his efforts at finding a not-too-girly name that would appeal to a journalist.

Sadly, my original suggestion of Professor Fate was vetoed due to being "ridiculous." Perhaps so, perhaps so…but I guarantee no one else at the dog park would have been yelling "Professor! Professor Faaaaaaaaate!"

Then again, probably not a lot of people will be yelling "Serif!!!" either. So we're good either way. And it is a rather pretty word. And easier to fit on one of those little name tags. Which reminds me, need to buy one of those as well…

4 Comments to