December 24, 2011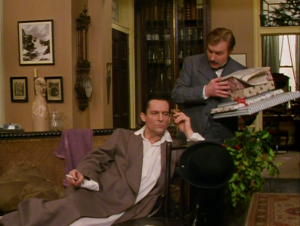 The Adventures of Sherlock Holmes: The Blue Carbuncle (1984) Jeremy Brett, David Burke
Last year on Christmas Eve, Larry and I were watching Jeremy Brett's Sherlock Holmes face off against his nemesis at Reichenbach Falls. Larry was briefly traumatized, we watched another episode, and in the end it all worked out, despite some brief confusion over the fact that between those episodes they swapped out the actor playing Dr. Watson. Keeping with tradition, we decided to watch The Blue Carbuncle this year, the most festive of the Holmes mysteries.
On Christmas Eve, Sherlock Holmes (Brett) and Dr. Watson (Burke) look into the mystery of how a stolen gem ended up inside of a random goose. It's more exciting than it sounds.
This is actually one of my favorite of the Jeremy Brett Sherlock Holmes stories, and it is the only one to my knowledge set at Christmastime. Brett was such a fantastic Holmes—by far my favorite of the classic Sherlocks. And Burke is a great Watson (although I came to love his replacement, Edward Hardwicke, just as much). I like my Watsons competent—as he was in the books—and both Burke and Hardwicke play him that way.
Half of the fun of any Sherlock Holmes story is the interplay between Holmes and Watson. There's lots of it on display in The Blue Carbuncle. Brett and Burke have terrific chemistry, gentling snarking at each other in such a playful way that you completely believe that they are best friends. (Or life-partners, if you prefer that theory.)

Adding to the Christmas spirit is the conclusion to the story, in which—SPOILERS—Holmes takes pity on the thief and let's him go, arguing that sending the clearly distraught fledgling crook to prison will only make him into a hardened criminal for life. "Maybe I am committing a felony," he tells a disapproving Watson, "but I may be saving a soul."

"After all," he adds, "it is the season for forgiveness."

Tune in tomorrow for Day 25: Doctor Who Christmas Special: The Doctor, the Widow, and the Wardrobe.

3 Comments to