March 24, 2012
I'm up in Vermont for the weekend with my friends Lindsey, Moira, Laura, Emily, and Lindsey's mother. Today we popped over to Fat Toad Farm to see the baby goats (and some pigs). Here are a few photos:
Emily with the pigs.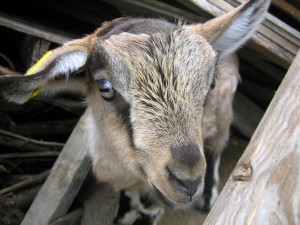 One of the many kids.
Minister of Goats, the Rev. Laura.
This goat wanted to eat my jacket. Others were more drawn to my trousers.
Adorable and very friendly.
This goat kept trying to eat my hair.
Emily enjoys a cuddle with a kid.
All the kids love the Rev.
Emily, Lindsey's mother, and Moira with the day-old goats.

9 Comments to