October 1, 2005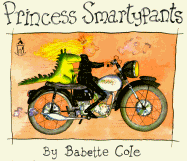 In a bizarre parallel with Disney's so-charming-it-could-be-lethal "Princess
Diaries," I discovered to my great surprise this morning that I am a bona fide princess. Who knew? Babette Cole it would seem as she's written a book about it: Princess Smartypants.
Now if I'd known that I would someday rule a country (one, apparently, where they ride around on motorcycles with crocodiles) I might not have spent the better part of my 20s getting my doctorate in Snarkology and Lobotomology at Spankytown University, my alma mater. But be that as it may, I know now, and I intend to rule my realm with an iron fist.
Among my first proclamations:
1. Henceforth, all crocodiles must wear protective helmets when riding motorcycles.
2. As Dr Pepper does make the world taste better, it shall be available in all establishments that offer beverages. Pibb Xtra is not an acceptable substitute.
3. Jon Stewart shall be my prince–no arguments.
4. The new national anthem shall be the theme song from "The Jeffersons" because if I have to have it stuck in my head all the time then so should everyone else.
5. To hell with the natural balance; I want armadillos, wombats, badgers, and platypuses to run wild in my country. And I want citrus trees. And no spiders.
6. Ultra-low-rise pants will not be sold or worn in my country. In fact, better just ban Abercrombie & Fitch altogether.
7. New holidays: John Cusack Day, Marshmallow Fluff Day, and all Wednesdays (so people will be sure to be home in time to watch "Lost").
8. As our first act of aggression, Smartypantslandia will declare war on George W. Bush. Not America—just Bush. The entire military force of Smartypantslandia (which I'm guessing is just me and a bunch of Harley-riding crocodiles) will descend on the White House, stick George's head in the toilet, and give him swirlies until he agrees to stop being an idiot.
That's all I've got for now. I was really nervous about being royalty at first, but now I'm feeling pretty good about it. I'll be sure to invite you all to my coronation.