March 5, 2011
Today has been a complete failure. We got up early so we could drive out to see a very cool glacier lake, and right from the start things went wrong.
The dining room was extra full at breakfast, so we shared a table with some women from Massachusetts who had just arrived. They wanted to chat at length, so instead of a quick bite to eat before getting on the road, we were stuck there for some time. During which it started to snow. (Nice to know that weather forecasters may be relied upon to be wrong regardless of the language in which they are lying to you.)
Stacey is an experienced snow driver, so she wasn't concerned. We figured we'd go a little ways and if it seemed to be accumulating we'd head back. But it turned out that the snow was the least of our worries—in fact it turned to rain pretty quickly. Our real problem was the wind. It was blowing so hard that Stacey had to work to keep the car in the correct lane. There was just no way we were going for a long drive in weather like that, so we turned back.
OK. Disappointing, yes, but we'd carry on!
So we decided to go to the National Museum…which was not yet open when we arrived. OK, fine.
We headed out for a cafe that was supposed to be nearby. It wasn't. Right, sure, OK.
So we went to nearby Hallgrímskirkja, the tallest church in Iceland. It was open, and we only had to walk through a small, freezing tornado to get in the door.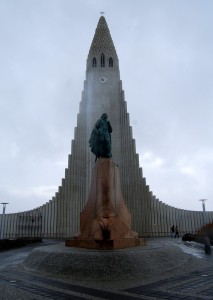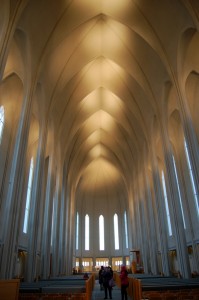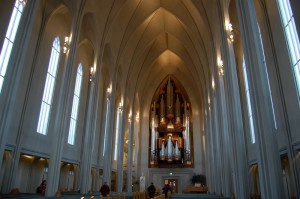 The problem is that there isn't much to see there. It's big selling point is that you can pay to go to the top and enjoy the great view, which we knew we wouldn't have in this weather. So that trip only used up about fifteen minutes.
Next we thought we could do some shopping. We explored several stores; Stacey bought some gifts; I bought a tiny painting in a gallery (where I think the sweet little old lady ripped me off on the exchange rate—I don't know; I don't want to know; I will likely spend the next 40 years obsessing about it); we tried to find somewhere good to have lunch; we were drizzled on and endured the wind. At some point my camera stopped working for about half an hour.
Eventually we thought the weather had improved enough to attempt a shorter trip outside the city. Long story short: it had not.
We drove back to the hotel. We looked in all of the guidebooks for something fun to do, something even moderately diverting even, but by now it was almost 4 pm and everything was closing at 5 pm. So now we are hanging out in the room, listening to the insanity-inducing wind blow past our window until we are hungry enough to look for dinner.
I think we must have inadvertently pissed off some of those "Hidden People," though I can't for the life of me think how. That or we just used up all of our good trip mojo yesterday. Who knows.