April 14, 2012
This post was written on March 20, 2009. When I went to include the all-important link to the visual element it had disappeared from the internet, so this post was never published. Through an odd series of events early this morning, I ended up finding that the art is back up, so several years later, here you go:
Back in October, during our fabulous UK Stratford-upon-Avon Shakespeare geekfest, Jen, Stacey, and I decided to make a quick day trip over to Cardiff. While we were wandering around the Queens Arcade mall in search of lunch and toilets and Doctor Who calendars we encountered a strange photo session in progress.
At first we planned to ignore it, but later we walked by again and the people working on it explained that it was some sort of community photo mosaic project. We were invited to participate. "We aren't Welsh," we explained. "That's fine," they said, "it doesn't matter." Clearly these people had a quota to fill. So feeling a little self conscious I followed Stacey and Jen as we each had our photos taken in front of several different colored screens, all the while being directed to look "up and to the left," then "down and to the right," and so on and so forth. One of the photographers flirted with Stacey. No one flirted with me. Clearly the Welsh don't deserve me. Next time I'll go to Manchester instead.
After they'd taken our photos they gave us each a T-shirt and sent us on our way.
So what was this mysterious project, you ask? It was the "I am Art" project, a photo mosaic containing more than 15,000 images of about 3,000 people. After the photos were taken the people (not us) voted to decide which famous Welsh person the photo mosaic would be of.
Go ahead, think of as many famous Welsh people as you can. I'll wait here.
…
Done already? Yeah. That's probably why the big winner, the "Face of Cardiff," wound up being 2007's "X-Factor" (think "American Idol") runner-up Rhydian Roberts (I was hoping for actor Gareth David-Lloyd but Rhydian will do).
Several months passed and finally the completed project was revealed. The three of us spent some time zooming in on the mosaic to find each other. It was loads of fun. Each of us appears multiple times—zoom in and see if you can find us!
Here's a pic of the three of us from earlier that week so you know who to look for.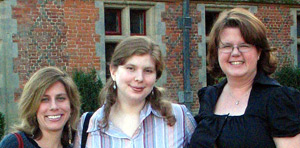 So that's the story of how Stacey, Jen, and I came to be featured in a strange piece of Welsh art, one with the people of Cardiff, forever immortalized in a pop star's head. WE ARE CARDIFF. WE ARE RHYDIAN. RESISTANCE IS FUTILE.