November 13, 2011
Every year around Thanksgiving Larry and I sponsor two turkeys through Farm Sanctuary's Adopt-a-Turkey program. Today is the day! This year we chose Payton and Elizabeth (pictures below © Farm Sanctuary). I know some people think turkeys are ugly, but come on! Look at Payton!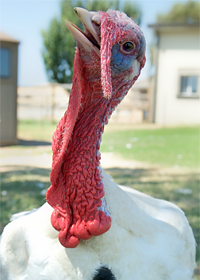 I love him so much. Look at his expression. Can't you picture him breaking into a musical number at any moment?
And how about Elizabeth, Larry's turkey? Noble, yes? Larry picked her because he likes Elizabeth Bennet from Pride & Prejudice. This turkey definitely looks capable of some verbal sparring with Mr. Darcy. "There is a stubbornness about me," she'd say, "that never can bear to be frightened at the will of others. My courage always rises at every attempt to intimidate me."
Anyways, it's a nice little tradition, and I look forward to it each year. If you are interested in adopting a turkey you can click the image below. If you are interested in mocking me, you can leave me a comment on this post.